Cute Doodle Easter Egg – Printable Easter Egg Coloring Pages
Grab these free printable coloring pages featuring doodle Easter eggs! Color them with markers, crayons and colored pencils or try using watercolor paper for a fun art experience!
This site contains affiliate links. I may receive a commission for purchases made through these links. As an Amazon Associate I earn from qualifying purchases.
[Learn more]
Today I'm excited to share these cute doodle Easter egg coloring pages! A few months ago I was setting up a quick, last minute craft activity for my daughter and grabbed a sheet from my watercolor pad. She loves to paint but had never painted on actual watercolor paper before. I quickly drew a rainbow and some flowers with black sharpie and let her paint. It was a huge hit!! The watercolor paper was something new and interesting and didn't become a soggy sheet of paper.
Since then we've done a few more painting sessions on the watercolor paper. The paper is expensive compared to butcher paper or coloring book pages so it's not an everyday thing for us – which makes it all the more special!
For these doodle Easter eggs I drew the Easter egg on watercolor paper to create a fun piece of artwork kids can paint and hang up. You can download the free printable packet which comes with two different doodle egg designs.
Since watercolor paper is usually too thick to go through a printer, you will need to transfer the design to watercolor paper. You could also doodle your own egg directly onto watercolor paper OR skip the watercolor paper all together and grab some markers or crayons and color the eggs in that way!
Cute Doodle Easter Egg
Supplies Needed
Free printable Doodle Eggs – Grab the free files by filling out the purple form at the end of this post.
Watercolor paper – I used Canson 140lb Cold Press Watercolor Paper. My pad is 11″ x 15″ but an egg will fit on a 9″x 12″ sheet.
Yarn
Step by Step Tutorial
The tutorial below is for creating the eggs on watercolor paper. Don't want to use watercolor paper? Simply print the coloring pages and grab your favorite coloring tools like crayons, markers or colored pencils and have fun coloring!!
Step One: Transfer the doodle egg designs onto watercolor paper.
Download and print the coloring pages. Trace the designs onto a sheet of watercolor paper using a black Sharpie marker. I traced mine by putting them on a bright window. You could also use a light box. If you aren't able to trace the design, you could cut out the egg and trace around it and then fill it in with your own doodles!
I was able to fit two eggs on my 11″ x 15″ sheet of watercolor paper. If you use a pad that is 9″ x 12″ you can fit one egg.
Step Two: Color in the egg!!
The best part! Color in the egg with watercolor paint. We used our Crayola watercolor paints and had a blast filling in the eggs. The watercolor paint is absorbed into the paper instead of pooling on top.
Once the egg is painted, let it dry completely. If you notice the paper is curling you can let it sit under a stack of books (once it is dry). You can also use Painters tape to tape the edges down prior to painting.
Step Three: Cut out the egg painting.
Step Four: Add a yarn hanger.
Use a hole punch to punch a hole in the top of the doodle egg. Grab some colorful yarn and create a hanging loop. The egg is ready to be hung up and enjoyed!
Use Markers instead of Watercolor!
Skip the watercolor paper and print the eggs on regular paper or cardstock (my favorite is 110lb Neenah White). Color in with markers, crayons, or colored pencils!
I hope you enjoy these cute doodle Easter eggs!
Check out my other Easter coloring craft! Color-Your-Own Easter baskets! Download and print the free printable coloring page, color it and then follow the tutorial to assemble a small Easter basket!
I'm sharing this kid's Easter craft as part of the the Creative Crafts Quick and Easy Easter crafts Edition. Be sure to check out the other fun crafts by visiting the page below!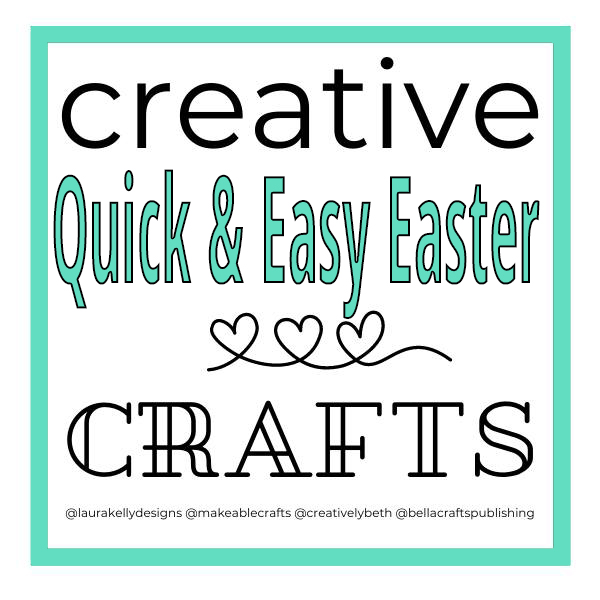 Get the Free Doodle Egg Printables!
Fill out the purple form below with your first name and email address! The free file will be sent straight to your inbox! If you have already filled out the form below, don't worry – you won't be added to my list twice! This freebie is for personal use only. I hope you enjoy crafting something special. Please let me know if you have any questions :)